A niche  which is existing for more than 70 years, a niche in which QUAD Musikwiedergabe GmbH has been cultivating tradition and developing new products for more than 30 years. And a niche that, according to the current state of knowledge, will continue to exist in distant future.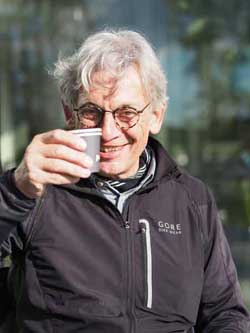 With this background, QUAD Musikwiedergabe is now opening their doors.
"What we are doing was developed many decades ago and is still valid today and also will be having a big influence in the future. For me it is good to see how new knowledge and young thinking supports the work at QUAD Musikwiedergabe." Manfred Stein, managing director of QUAD MUSIKWIEDERGABE GmbH
Sometimes - very rarely- designers of technical products succeed and manage in creating something that is later described as ingenious or epoch-making. To Oscar Barnack, the creator of Leica it happened in 1924; or Peter Walker, who developed the QUAD electrostatics in 1957. There are many parallels between those glorious and outstanding products. They have become indispensable everyday objects in the hands of both professionals as well as interested laymen. Designed so ingenious right from the very beginning, that they could not be improved even in the course of decades.
QUAD MUSIKWIEDERGABE operates a factory in the Eifel, not far from the Nürburgring, where the QUAD electrostatics, which were originally developed and built in England a long time ago, are now refurbished. And in which nowadays also new, highly topical, electrostatics are manufactured from scratch.
"To our customers, the work we do, means to continuate the english tradition in any aspect . The preservation of the electrostatics that were once invented by Peter Walker for the reproduction of handmade, acoustic music. You could almost say it is about the preservation of European cultural assets."
Faithful to this principle, QUAD Musikwiedergabe takes care of the restoration and manufacturing of new electrostatic speakers. The construction of such sound transducers is about precise mechanical work. The membranes are made from extremely fine Mylar foils. A special coating gives the membranes their conductivity as a prerequisite for the almost massless membranes to move precisely in time with the music, driven by static forces. Craftsmanship and accuracy are required. Such developments are always about "thinking ahead" of the product. Some things that used to be done by hand can now be realized using 3D printing or the latest milling techniques.
"For me as managing director and owner it is good to see how new knowledge and young thinking influence the work at QUAD Musikwiedergabe. The tradition continues. After more than 40 years I was allowed to work with and for QUAD, now I would like to take back to take care and spend my time with new ideas and dreams. If you feel addressed (provided that you have the appropriate previous knowledge) and are seriously interested in growing and learning of this small niche, I look forward to an interview with you."
Please contact us if you would like to contribute in any way to maintain this small niche, which now exists for more then 70 years already. It is about the preservation of a cultural asset and it is about continuing being a reliable partner to QUAD lovers. "Thinking back to how I myself was able to turn my hobby into a profession accompanied by elderly and experienced people around Peter Walker, who was willing to teach me, I am now looking forward to getting in touch with younger people who share the same "craziness and obsession" like I had and still have and to continue this niche with the right concept.